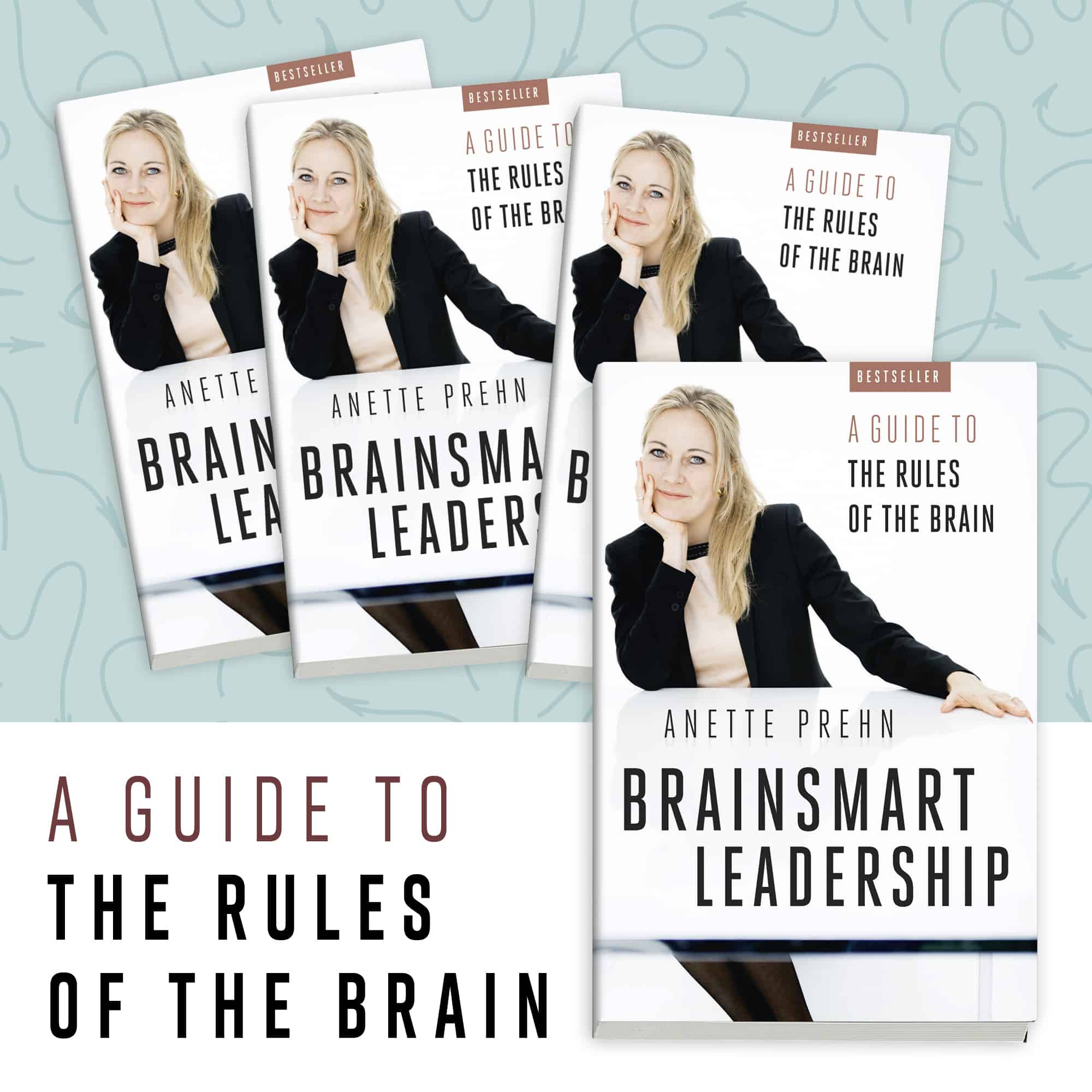 Brainsmart Leadership has been published!
I am happy to announce that me newest book – BrainSmart Leadership – has now been published and that the first 100 signed copies of my have been sent off to Danfoss professionals in India, US, Germany, Finland and Denmark. They will bring new insights and great tools for enhancing collaboration and performance. All the best for your common journey with the rules of the brain in mind!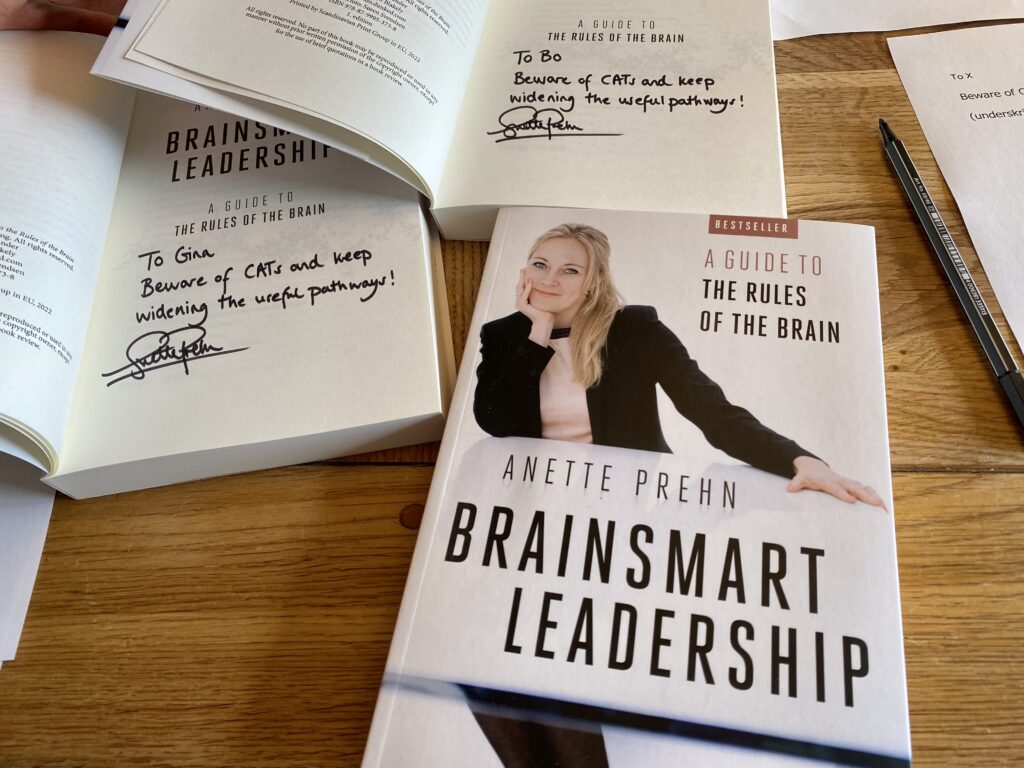 BrainSmart Leadership is a guide to the rules of the brain for leaders and others with an interest in human interaction. The brain follows certain ground rules, but only few of us have the understanding and ability to put them into practice. Unfortunately, this means that leaders and employees alike are missing out on the keys to fruitful cooperation that boost learning, performance, innovation, and emotion regulation.
This book is an invitation to become a brainsmart leader – to learn to pick up on and understand social interaction in a new way and to be willing to think and act in a manner that works with the brain's logic as opposed to against it. The tools in this book will improve your ability to help your organisation through change and create working environments that minimise negative stress, tackle online pressure and respect the brain's limited capacity.
Anette Prehn boldly challenges and provokes standard practice, stressing that leading without proper understanding of the rules of the brain is like leading with your eyes blindfolded. The question isn't whether you, as a leader, leave a mark on your employees' brains, but rather what kind of mark you leave …
This book answers questions like:
Why does "good" advice often go unheeded and why is feedback so easily misconstrued?
How do you promote a flexible mindset when you and everyone around you are stuck in old habits?
How do you unburden the brain in a busy life and prevent negative stress?
How would you benefit from becoming an expert at handling the brain's warning bell?
How can procrastination be turned into productive aha! Moments?
Why should we take emotions with a pinch of salt, but take values deadly seriously?
How does your approach to leadership influence the brains of your employees?
How can you make your organisation – and this includes you – more brain-smart?
ABOUT ANETTE PREHN
Anette Prehn – sociologist (MA) and keynote speaker – is a prolific bestselling non-fiction author, and has been an entrepreneur and innovator since 2005.
She has worked in the field of NeuroLeadership since 2009 and has taught the rules of the brain to hundreds of thousands of leaders and employees, thus strengthening their leadership, learning, habit change, cognitive flexibility, and mental health. Highly skilled at explaining complex ideas in down-to-earth and accessible language, and impossible to pigeonhole, Anette Prehn has developed techniques that make it easy for people to turn their brain into a co-player rather than an opponent. She is on a mission to make applied neuroscience accessible to all. During the process, she has developed the Framestorm® method, which allows people to flip and widen their perspective, thus paving the way for innovation, emotion regulation and making the most of whatever life throws at you.
In 2018-2019, Anette chaired The National Stress Panel, established by six Danish cabinet ministers. The panel comprised 10 experts and was tasked with identifying 12 actions to radically influence the stress level experienced in Denmark in recent years as well as to engage the Danish public in understanding what stress is and does and how mental health can be strengthened.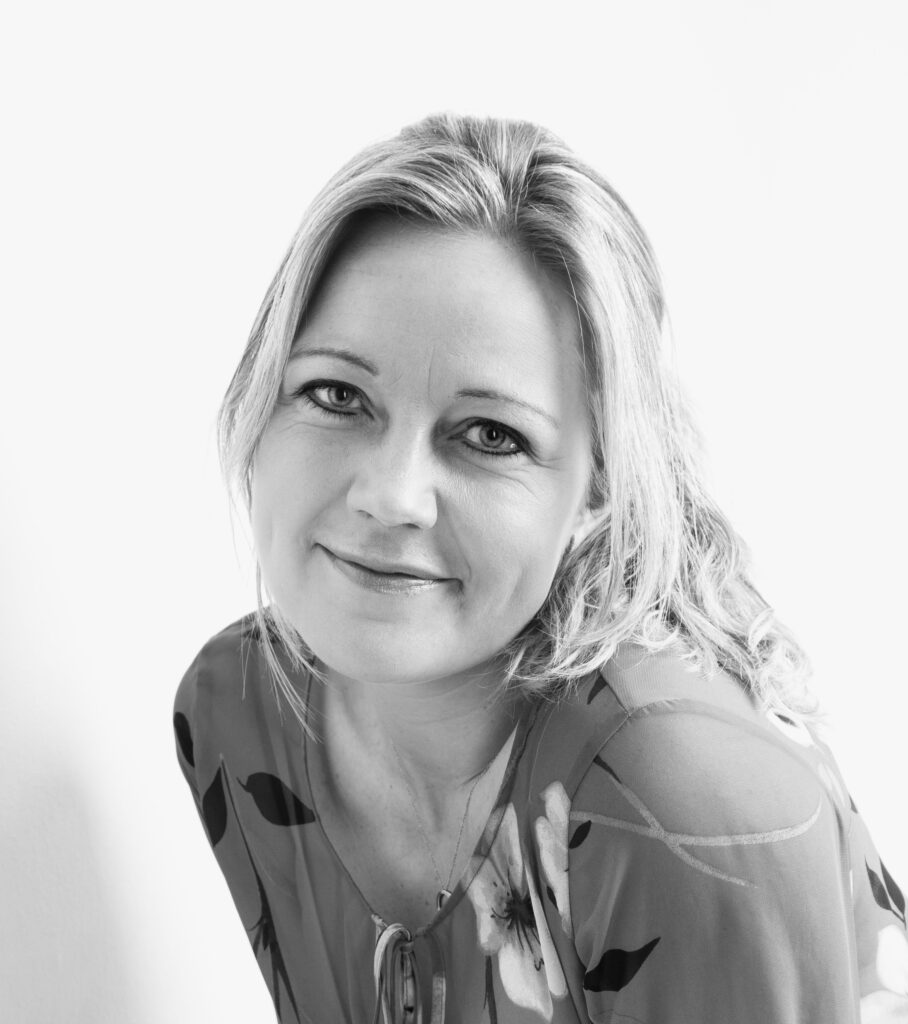 Anette Prehn is on a mission to make neuroscience available to all, i.e. easy to understand, remember and apply.
She is a keynote speaker, trainer and author who has inspired hundreds of thousands across the planet. People call her "the Cruyff of applied neuroscience". She is a female entrepreneur who has been running her business for more than 13 years.
Her clients include Siemens, Bosch, Ericsson, Roche, Lego, Novo Nordic, Man Diesel and Turbo and Danske Bank. Throughout these many years, her clients have been powerfully inspired to apply neuroscience to work situations, but they have also asked her: "How do I more specifically apply the logics of the brain to parenting?" and "I can see my kids gaining from knowing this as well. What's the best way to introduce them to these tools?" Being the mother of two and the stepmother of two, those questions got Anette Prehn going. She has started adding to her portfolio how parents, teachers and nursery nurses can become more brainsmart, thus nuturing an environment that helps kids learn, thrive and regulate emotions relevantly. And most recently, in her Brain Friends series, she is sharing with children and teenagers how to strike up a friendship with one's brain rather than being at the receiving end only of its impulses and habits.